Sammy berell Biography  
Sweden has a long tradition of extremely talented, technically driven and innovative guitarplayers. But they definitely don´t grow on trees and they don´t come in bundles every chistmas either. So when a new bright star on the northern sky is born you can be sure to tell by the vivid sparks!
Sammy Berell grew up in the 1980´s and 1990´s in a suburban area north of Stockholm. In fact and by coincidence the very same place where Yngwie J Malmsteen also was born and raised. This was later becoming an issue, since a lot of people were obviously comparing Sammys playingstyle to Malmsteen. Something that should be seen only as a compliment really. 
Sammys family were all musicians and singers, so he was always surrounded by music and was musically encouraged. His upbringing was partly a little bit disorderly though, since Sammy was only interested in music and not at all in school. 
Sammys father was a priest, who often took his young and restless son with him to work. Listening to the organist in church and classical music was therefore a constant, common and everyday habit. Mozart, Bach, Vivaldi and Händel were always on the agenda. 
This way Berell became intensively inspired by all these legendary composers early on, and it gave him the urge to start playing and practicing different instruments. He began with the piano already at the age of six, and then, as time was passing, came also the flute and the violin. He swiftly came to a deeper understanding of symphonies, opera  and musicals.  In his early teens, Sammy also started to listen to classically influenced heavy rock music. He discovered Van Halen, Malmsteen, Norum, Talisman, Dream Theater, etc. He started to play the drums. And then he was given an electric guitar. He took to it instantly and it quickly became his main instrument. 
Everyday after school Sammy was practising guitar for hours without end. He developed  his sound and his technicality day by day. After all these days, weeks, months, years of dedication and practising hard, people also started to pay attention to his extraordinary skills and talent.  
Sammy played with some different bands during his youth, but he always dreamed about and envisioned his own thing. The early 1990´s was definitely not the era for advanced musicianship and being musically ambitious. The trend at the time rockwise was called grunge. Being obsessed with playing scales and practicing your instrument manically, days and nights, was seen as kind of ridicilous, nerdy or goofy. Only a few people took Berell seriously. But he himself knew exactly which way he wanted to go. He was confident and very strongly believed in  what he was doing. 
Then in 2017, finally his dream came true. His debutalbum as a soloartist in his own right was released. Suitably named "Passion Dreams" (Dark Force Records / Sound Pollution). All music and all lyrics writtened by Berell himself. And he plays all guitars, all bass, keyboards and do some vocals himself also. And now, with this project, he also got to work together with some of his own musical heroes. Singers like Michael Vescera (Yngwie Malmsteen, Loudness, Obsession) and Göran Edman (Yngwie Malmsteen, John Norum, Kharma). People he grew up with, admired and looked up to. Something Berell felt was extremely cool and satisfying. Musically The album is connecting the past with the present. Well known and the biggest magazine in Japan for Heavy Metal music since the 1980´s – Burrn Magazine, praised Berell, his album, his music and above all – his guitarplaying highly! "Passion Dreams" ended up as #2 on their list of recently released albums. Victorious. 
In 2020 Berell recorded a single together with Göran Edman – "Dystopia". 
And a new soloalbum has now also been recorded, mixed and mastered (by Martin Sweet), for release later in 2021. This time with Mark Boals (most known for his work with Malmsteen on albums like "Trilogy" (US platinum), "Inspiration", "Alchemy", and a lot more) on lead vocals. 
The future for Sammy Berell looks very bright and clear and the spark of this star is as energetic, vibrant and shining as ever! Look out! – He´s shooting again! And You are the target. 
——————————————————————————————————————————————————————————————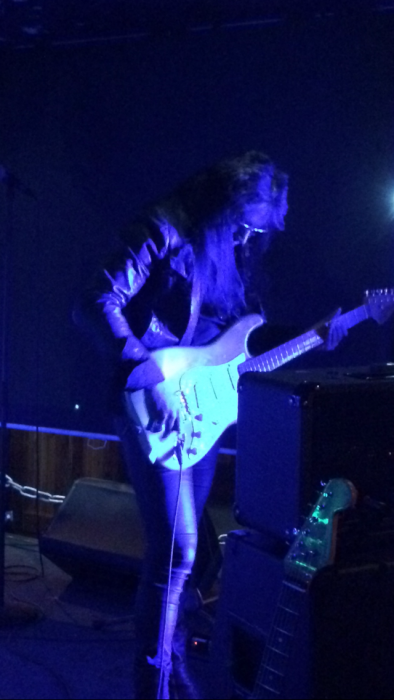 Dream passionately. Dedicate your life to your craft. Work hard and aim for the stars! That is the story of Sammy Berell
Sweden always has been a country that has brought the Hard Rock & Metal community a lot of amazing, new talents – including some kind of extraordinary guitar geniuses.The latest hottest sensation from Scandinavia in this respect is guitarist Sammy Berell whos was a debut with his album 'Passion Dreams' March  17th, 2017 via Dark Force/Sound Pollution. The Hard rock classical-inspired Swedish axeman for this release joined forces with the exceptional singers Göran Edman and Mike Vescera and producer/drummer Daniel Flores.A single and a video for the track 'Drakkar' will be released in advance on February 17th.If you are into classic Rock And Melodic Ones.Back in the 80s  when the Guitarhearos had there prime. This album is for you !!
Line-up: for Passion Dreams Album   2017 
Sammy Berrell (guitars/ bass/ keyboards/ vocals)
(Vocals)  10 songs  Michael Vescera Loudness Obsession  Dr sin ,Yngwie
(Vocals), Göran Edman 2 songs .  Norum Yngwie  talisman Madisson  etc
Daniel Flores (drums/ keyboards)
 Dystopia   2020  
recored 2021  in  the pandemic  but delayed
Will be Out on Spotify   2022 
Produced by Berell
Mixed by Martin Sweet
Mastered by Martin sweet
1  .Dystopia  #Singer Glöran Edman lyric    # Sammy berell Music/guitar base Drums key  piano
New  Full album upcoming album   /2021  10 29.  Album Beyond The Vail 
NEW ALBUM    Beyond The vail   and will be out  2021 -10-29
Releasing distribution co. By Sound-Pollution Stockholm Sweden 2021 10 29
Label Dark-force recored .Stockholm Sweden 2021 10 29
Produced by Sammy berell
singels  that will be released  Pure 29 sep / All the Devine 15 okt / Devil Dance 29 okt
1. Dance Devil dance  04:07
2. Night and Day 04:35
3. All the Devine 05:38.  (instrumental )
4. Pure 04:40
5. Angel of Mercy  04:58.  ( instrumental )
6. Time for goodbye  04:38
7. "Sonata" Beyond the vail" Andante "  04:27.  (instrumental )
8. Pegasus War Suite  04:59. ( instrumental )
The album was Recored in Stockholm / Nevada-Us
Produced by Sammy  Berell
Mixed by Martin Sweet
Mastred by Martin Sweet
Line Up
Sammy berell  / Guitar /Bas / Key /drums
Mark Boals  -Song